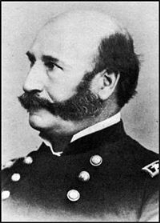 General Augustus Louis Chetlain maybe one of the lesser known generals in Galena, but his impact and his accounts on General Grant deem him a valuable resource and an important figure. If you have ever lived in Galena, you have heard of Chetlain Lane, this street is named after this man.
Chetlain was born December 26, 1824 in St. Louis, Missouri. As an infant Chetlian and his family arrived in Galena, by 1852 Chetlain began his business career as a clerk, and eventually became an owner of a local business in Galena. By 1859, it was noted that Mr. Chetlain was very wealthy. That year, he sold his business and began to travel Europe.
By the time war broke out in 1861, he chose the side of the union, and he always said that he was the first man to volunteer in the state of Illinois. On April 16 he was part of a meeting held in Galena to raise a volunteer company, and with Ulysses S. Grant was prominent in its creation. When Grant declined the post (and at his suggestion) Chetlain was elected as the company's captain. In Springfield in late April the 12th Illinois Infantry was organized, and Chetlain's company was added to it. On May 2 he entered the Union Army as captain of the 12th Illinois, and the next day he was elected the regiment's lieutenant colonel.
On April 6, 1862, Chetlain led his regiment with distinction during the
Battle of Shiloh
. In the fight he lost about a quarter of his men and Chetlain was wounded when both his face and chest were seriously bruised. On April 27 he was promoted to
colonel
for gallantry during the action at Fort Donelson. That May his command participated in the
Siege of Corinth
and then the battle there on October 3 and 4, during which Chetlain was again highly praised for his performance. Chetlain was then given command of
Corinth, Mississippi
, where he began to organize and train
black soldiers
for Union Army service. This assignment lasted until May 1863, and on December 18 he was promoted to the rank of
brigadier general
. On the advice of Grant, Chetlain was given the task of raising black troops in
Tennessee
and
Kentucky
, with his headquarters located in
Memphis.
By October 1864 he had trained a force of about 17,000 men that were "well armed, drilled, and disciplined."
On June 18, 1865, Chetlain was
brevetted
to the rank of
major general
. Between 1865 and 1866 he commanded at Memphis and then at
Talladega, Alabama.
On January 26, 1866, Chetlain was mustered out of the Union Army. His war-time performance has been described as:
"Gen. Chetlain throughout his varied army career had military ardor, and a love for the profession of arms. He proved himself a brave commander in action, a successful organizer, an excellent disciplinarian and tactician, and possessed a high order of administrative ability."
-James T. White, National Cyclopedia of American Biography

After the war, Chetlain was assessor of Internal Revenue for the district of Utah from 1867–69. From 1869–72, he was at U. S. consul in Brussels. During the Grant administration, Chetlain was also noted as beign one of Grant's card playing partners in the White House. In 1872, he established himself in the banking business in Chicago and also as a stock broker. He was president of the Home National Bank, organizer of the Industrial Bank of Chicago, director of the Chicago Stock Exchange, and member of the Board of Education. In 1893 he wrote Recollections of Seventy Years. On March 15, 1914, at the age of 89 he died in Chicago. He was buried in Greenwood Cemetery, Galena.
There will be more added on Chetlain as the blog continues to grow, stay tuned. Including Chetlain's recollections on his close friend U.S. Grant.
Also note that this will be the last long intro for the generals (excluding Gen. Grant), the other four are not as well known as Rawlins, Parker, and Chetlain.

Augustus Chetlain's gravemarker in Greenwood Cemetery in Galena.